How to Help Prevent Someone from Contesting Your Will in Florida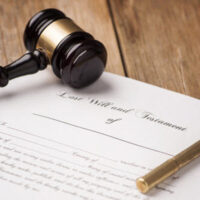 One of the main goals of estate planning is to keep fights from happening when you die. However, failure to have a Last Will and Testament, or other estate documents in place can open the door for numerous disputes. One of the most common conflicts involves contesting the Will. While you can't predict every dispute that will arise, with proper planning you can try and eliminate some of the reasons why someone might contest your will.
If you are a family member who is involved in a dispute over the validity of a Will during a Florida probate, you need an experienced Pompano Beach estate and trust litigation lawyer.
Meet with an Attorney who Has Experience in Estate Planning
When you are setting up your estate plan, use an attorney who focuses on estate planning. You wouldn't want a divorce attorney handling a felony criminal defense, so don't use an attorney who doesn't focus on estate planning for protecting your assets. If your estate is set up wrong or leaves too much open to interpretation, it is just inviting disputes during probate.
Is there someone in your family that you prefer to leave out of your will, but you know will contest it during probate? Talk to your attorney about including something for them that is moderate and reasonable. It should be adequate, not necessarily generous. The person has much less standing to object if they were left something that could be deemed sufficient.
Transfer a Portion or All of Your Assets While Alive
Transferring your assets before your death can help avoid any claims made against your Estate, provided there are no assets to go through probate. When you meet with a probate attorney, they will go over all the possible options for transferring assets and what makes sense in your individual situation.
Structure Your Assets, So They Aren't Part of Your Estate
Another option is to look at ways to structure your assets so they aren't part of your estate and subject to probate. Consider joint tenancy with rights of survivorship for the property you own. Then, if one of you passes away, that property will pass by law to the surviving joint tenant. Bank accounts are another asset that you want joint tenancy on when applicable.
Your probate attorney will talk to you about other options, like certain Trusts. Some may give you control over your property while alive but transfer to a named beneficiary upon death. 
Can You Use a No Contest Clause?
Some states allow for a no contest clause in your Will, which means someone can be penalized if they raise an objection or want to challenge the validity of the Will. Other states review a no contest clause on a case by case basis. Florida, however, expressly prohibits the use of one.
Contact a Florida Estate Litigation Attorney
If you are dealing with a dispute of some type related to someone's estate and/or trust, you need an attorney that is skilled in Florida estate litigation. At the office of Mark R. Manceri, P.A., we focus on all types of disputes related to probate, wills, and trusts. Contact our Pompano Beach estate and trust litigation lawyers today to schedule an initial consultation.
https://www.estateprobatelitigation.com/what-are-common-causes-of-probate-disputes-in-florida/