Who Has the Right to Make Funeral Arrangements in Florida?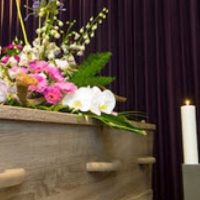 Florida Statutes § 497.005(43) gives certain "legally authorized persons" the right to make funeral arrangements. The right to make decisions regarding the decedent's body and funeral services goes to the following individuals in this particular order:
The deceased person, if they left written directions for the funeral before their death;
The deceased person's surviving spouse, unless the spouse committed a crime that resulted in the decedent's death;
Adulting children (or a majority of children if the decedent left more than one child);
Parents;
Siblings;
Grandchildren;
Grandparents;
Next of kin; or
The guardian at the time of death, the personal representative of the estate, a person appointed as the agent in a power of attorney (POA), health surrogate, medical examiner, or a public administrator.
If you have questions about who has the right to make funeral arrangements in your particular situation, consult with a lawyer.
What if There Is a Dispute Between Family Members?
If there is a dispute between family members regarding who should make the funeral arrangements, the matter may be taken to court for a judge to decide. The court will consider factors such as the relationship with the deceased, the willingness to take on the responsibility, and the deceased's wishes if they were expressed in writing.
Who Should Pay the Funeral Expenses?
It is important to note that the person who has the right to make funeral arrangements is not necessarily the person who will pay for them. If the deceased had pre-paid for the funeral or had a life insurance policy that covers the cost, the arrangement can be made to have that payment directly made to the funeral home.
What About the Deceased Person's Remains?
Another thing to keep in mind is that the right to make funeral arrangements does not include the right to make decisions regarding the deceased's remains after the funeral. Decisions about final resting places or cremation are made separately and may be expressed in the deceased's will, or through verbal or written instructions left behind.
Talk to a Lawyer
Dealing with the loss of a loved one is overwhelming enough, without worrying about who has the right to make funeral arrangements. During this difficult time, you might want to seek legal guidance from a lawyer to ensure that you make the right decisions regarding your loved one's funeral arrangements. If there are any disputes among family members, your lawyer can help resolve the issue. Reach out to Mark R. Manceri, P.A., to discuss your particular case. Call 954-491-7099 today.
Source:
leg.state.fl.us/statutes/index.cfm?App_mode=Display_Statute&URL=0400-0499/0497/Sections/0497.005.html