When Is A Florida Power Of Attorney Invalid?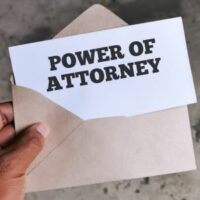 A power of attorney is a written, signed document whereby one person–a principal–grants certain authority to an agent to take some action on their behalf. Any legally competent adult may sign a power of attorney. By default, the power of attorney remains in effect only while the principal remains competent. That is to say, if the principal becomes legally incapacitated, the law will automatically revoke any power of attorney in force. However, if there is specific language in the power of attorney declaring it is "durable," then the agent may continue to exercise their authority during the incapacity.
So when is a power of attorney invalid under Florida law? As stated above, one case would be where the principal was not legally competent. Put another way, the principal was judged incapable of understanding that they were signing power of attorney in the first place.
A power of attorney must also follow certain requirements during the execution process. Similar to a will, the power of attorney must be signed by the principal and at least two witnesses. Unlike a will, however, the law also requires a Notary Public to acknowledge the validity of the principal's signature. (Many people do have their wills notarized, although it is not technically required.) A power of attorney created outside of Florida will be considered valid in Florida provided it was properly executed under the other state's laws.
And even where a power of attorney itself was legally executed, its provisions may still be invalid. For example, Florida law requires any power of attorney to specify the agent's powers. So a power of attorney that simply gives the agent authority to act with respect to "all matters" affecting the principal's property would not be valid. Along similar lines, a power of attorney may contain language limiting its time and scope to specific matters. For example, a principal might sign a power of attorney granting their agent the authority to sell a specific piece of Florida real estate within 60 days. Outside this limited scope, the power of attorney is invalid with respect to any other matter.
Finally, a power of attorney may be invalid if it names someone who cannot legally serve as the agent. Here, Florida law is actually quite broad. Any legally competent adult–i.e., a person over the age of 18–can be named as an agent. Financial institutions that meet certain legal requirements can also be named as agents.
Speak with a Florida Estate and Probate Litigation Lawyer Today
Disagreements over the scope and validity of an agent's actions can often lead to litigation. If you are involved in such a matter and need legal advice from a qualified Pompano Beach power of attorney disputes lawyer, contact the offices of Mark R. Manceri, P.A., today to schedule a consultation.