What to Do if You Suspect a Florida Will Was Forged?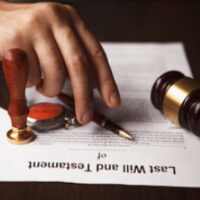 It's unfortunate, but the number of suspected Wills is on the rise. Spotting them is not easy. This means if a subsequent will pops up during probate, there are grounds to dispute it. It's important to make sure that you have a trusted friend or family member that you can ask to keep your original will protected. Some people might invest in a safe or tell their trusted confidant where the original will is hidden.
Signs that Fraud Has Taken Place
Every situation is different, so the red flags may differ. Some common features that could indicate that there is a fraudulent will include:
The original Will was destroyed and only copies exist.
The signature on the Will does not belong to the testator.
There is a sudden new Will that was drafted while the deceased was hospitalized or under the care of a home healthcare worker.
There was no legal professional involved.
A family member has a suspicion that the deceased was coerced into signing the new Will.
The Decedent had a caregiver for multiple aspects of his or her life.
Remember, spotting a questionable Will may seem to be easy, however proving it can be much more difficult.
How to Challenge a Fraudulent Will in Florida
If you suspect a Will is not valid, one of the first things you want to do is contact an experienced Florida estate and trust litigation attorney. Before attempting to contest the will, meet with your attorney and determine whether or not you have a meritorious case. An attorney can tell you what your potential chances are, whether or not you should proceed, and what steps you need to follow in order to increase your chances of being successful.
Next, you want to gather any evidence that is necessary to prove whether or not the Will is fraudulent. In order to successfully contest a will, you need to show proof that the Will was forged. Without any evidence, there is only a very slim chance of a favorable outcome.
The use of handwriting experts is common, but it's also an expensive option. Utilize as many investigative tools as you can before hiring experts. This can include speaking with witnesses and anyone else who was closely involved with the Decedent. Those who were closest to the Decedent may have valuable information as to the person's state of mind when they changed their Will.
If you can't get the answers you need and it looks like the matter will progress through the Court system, request a mediation first. This can help save money and encourages both sides to try and seek an amicable resolution.
In situations where mediation doesn't work or you still strongly believe the Will is invalid, then you should proceed with legal action. Your Florida estate and trust litigation attorney can help you prepare for legal action.
Contact a Florida Probate Litigation Attorney
Contesting a Will is a very big deal, and it can be rather tricky to prove that there was undue influence, coercion or duress involved. Don't attempt to challenge a Will on your own, let a knowledgeable Pompano Beach estate & trust litigation attorney help. Contact Mark R. Manceri, P.A. to schedule an initial consultation.
https://www.estateprobatelitigation.com/understanding-the-responsibilities-of-an-executor-in-a-florida-probate/