What Happens If You Cannot Find The Decedent's Will After Their Death?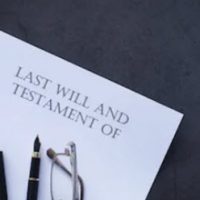 The loss of a will after death can be a difficult and confusing situation for beneficiaries to face. Understanding what happens in such cases is important, as it can help beneficiaries navigate the estate process with greater ease and comfort.
The Pompano Beach estate litigation & trust attorney at Mark R. Manceri, P.A., can explain what happens if beneficiaries of the estate in Florida cannot find the deceased person's will after their passing.
What If No Will is Found After Death in Florida?
Under Florida law, if a will cannot be found after death and all efforts to locate it have failed, then the court must assume that there was no will at all. This means that the laws of intestacy must be followed.
Each state sets intestacy laws, which determine how assets should be distributed to heirs when there is no valid will present. In Florida, the distribution of assets through intestate succession generally follows these guidelines specified in Florida Statutes § 732.103:
Children inherit 100% of the estate if the decedent had no surviving spouse;
The spouse inherits 100% of the estate if there are no descendants (children and grandchildren);
The spouse inherits 100% of the estate if there are descendants between the decedent and the spouse (and the spouse does not have descendants from other relationships);
The spouse inherits half of the estate and the decedent's descendants inherit the other half if the spouse has descendants from other relationships;
The parents inherit 100% of the estate if the decedent died without a spouse and descendants; and
The siblings inherit 100% of the estate if the decedent dies without a spouse, descendants, and parents.
Figuring out who inherits what under Florida's intestate succession laws can be confusing. However, just because you cannot find a will does not necessarily mean that assets will be distributed to the heirs according to intestate succession laws. It may still be possible to use the decedent's will if there is a copy of the document, but the original will is missing.
What to Do If You Can't Find A Will?
The best course of action when you cannot find a valid Last Will & Testament is to contact an experienced attorney who specializes in probate matters right away so they can advise you on your next steps and ensure that everything is handled correctly under state law. It's also important to note that if you discover a lost or hidden will after someone has passed away, you should still contact an attorney as soon as possible so that it may be properly executed according to legal standards.
Consult with an Estate Litigation Lawyer at Mark R. Manceri, P.A.
Ultimately, understanding what happens if beneficiaries cannot find a will after death is essential knowledge for anyone dealing with an estate matter. By understanding intestacy laws and seeking legal advice from an experienced attorney when necessary, you can make sure that your family's interests are protected during this difficult time period following someone's passing.
Contact Mark R. Manceri, P.A., if you cannot find the decedent's will after their death and do not know what happens next. Call 954-491-7099 to get the legal guidance you can trust.
Source:
leg.state.fl.us/statutes/index.cfm?App_mode=Display_Statute&URL=0700-0799/0732/Sections/0732.103.html