What Does an Estate Litigation Lawyer Do?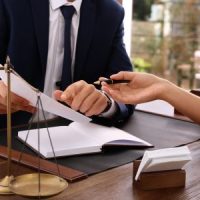 The passing of a loved one can be extremely heart-wrenching and emotionally difficult to deal with. However, things can quickly become even more complex if legal disputes arise over their estate, last will, or testament. Estate litigation lawyers are specialized attorneys who assist with managing potential disputes and finding the right solutions for all parties involved.
But what does an estate litigation lawyer do, exactly? If you are considering hiring a lawyer, you need to know how a lawyer can help you and what to expect. Our Pompano Beach estate litigation lawyer at Mark R. Manceri, P.A., can help you resolve any issues that might arise in your case.
How Can an Estate Litigation Lawyer Help?
There are at least six ways an estate litigation lawyer can help you:
1. Handling All Legal Matters
One of the key roles of an estate litigation lawyer is to handle all legal matters related to estate litigation. This involves managing and overseeing every legal aspect, from providing legal advice on your rights, interpreting wills and trusts, to reviewing legal documents such as the will, power of attorney, and other legal agreements necessary to manage your loved one's estate properly. The lawyer makes sure that all legal documentation meets the proper legal requirements and that everything is done within the scope of the law.
2. Resolving Disputes Regarding Wills and Trusts
One of the primary responsibilities of an estate litigation lawyer is to help resolve disputes involving wills and trusts. Estate litigation lawyers help you understand the terms of the will or trust, identify potential disputes, explore available legal options, and settle the disputes as smoothly as possible.
Disputes over a will or trust can occur due to various factors, such as the accuracy of the will, the validity of the document, or disagreements regarding how the assets are distributed. Estate litigation lawyers have ample experience in handling such disputes, ensuring that you have the best legal representation in achieving a successful resolution.
3. Pursuing or Defending Against Will Contests
Will contests arise when an individual or party contests the validity of the will of a deceased individual. Whether you are the executor of the will or a beneficiary seeking to challenge the will, an experienced estate litigation lawyer can help defend or pursue the contest. Will contests can arise when the document does not comply with the requirements outlined in Florida Statutes § 732.502).
Estate litigation lawyers help you fight for your rights in court and navigate the complexities of will contests. They work closely with you to file an appropriate lawsuit and provide evidence that supports your claim, ensuring that your rights are protected.
4. Taking the Necessary Legal Action in Estate Litigation
In an estate litigation lawsuit, an estate litigation lawyer plays an essential role in taking legal action needed to manage the estate and fix any wrongful conduct that may have occurred. Lawyers in this area of law ensure that you get adequate compensation if you or your beneficiaries have been wronged intentionally or unintentionally. Estate litigation lawyers represent you in court, negotiate settlement agreements, and ensure that the rights of all parties involved are protected under the law.
5. Explaining Your Legal Rights and Options
An experienced estate litigation lawyer helps to explain your legal rights and options to you, providing guidance and suggestions, so you understand what options are best in your unique case. Estate litigation lawyers help you understand your rights and obligations in estate litigation, settle disputes, and navigate through the court system. The purpose of this is to provide you with the necessary information you need to make informed decisions about your legal case.
6. Navigating Through the Court System
Estate litigation cases often require court representation, as some disputes are generally more complex to resolve than others. Estate litigation lawyers have years of experience in navigating through the court system, ensuring that your rights and interests are protected throughout the legal procedure. Estate litigation lawyers provide guidance to you, uncover evidence, and make use of legal arguments that are advantageous to your situation.
Get the Legal Representation You Need
If you are dealing with an estate litigation matter, working with an experienced lawyer can make all the difference. Contact our skilled estate litigation lawyer at Mark R. Manceri, P.A., today to gain insight into your rights and get the legal representation you need during these challenging times. Call 954-491-7099 to get a case review.
Who Has the Right to Make Funeral Arrangements in Florida?
Losing a loved one is one of the most difficult experiences a person can go through. During this grieving period, your mind may be clouded with questions and uncertainties, especially when it comes to funeral arrangements. One important question that you may have is, "Who has the right to make funeral arrangements in Florida?"
Our Pompano Beach estate litigation lawyer at Mark R. Manceri, P.A., can explain the legal guidelines concerning the right to make funeral arrangements when a loved one dies.