What are the Laws Regarding Intestate Succession in Florida?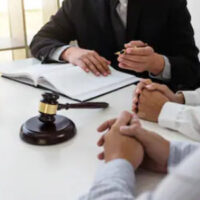 When someone fails to start on their estate plan timely, they could end up dying without a Will. When someone dies without a Will, it means that the Estate will be distributed according to the laws of intestate succession.
Estates that pass through intestate succession can create more confusion and disagreements for family members. The lack of clarity can increase the chances of estate litigation. In these situations, it's best to speak with a Pompano Beach estate and trust litigation attorney.
Florida Rules on Intestate Succession
Under the Florida rules on intestate succession, if the deceased has a spouse, but no other surviving lineal descendants, then the entire estate goes to the spouse. If the decedent and the surviving spouse have descendants, but neither has any other non-shared children, then the surviving spouse will still inherit everything.
When there are mixed families, intestate succession becomes more complicated. For example, consider a decedent who had no surviving spouse, but had one natural child and two stepchildren they raised as their own. Under the laws of intestate succession, the stepchildren would inherit nothing.
If the deceased is survived by a spouse and lineal descendants, but one lineal descendant is not a descendant of the spouse, then the estate would be split. The surviving spouse would get one-half of the estate and the lineal descendants will split the other half. When there is no spouse, but there are lineal descendants, the descendants will share the estate.
What happens when there is no spouse or descendants? Then the estate goes to the lineal ascendants, which would be parents, grandparents, or great-grandparents and any "collateral relatives." Collateral relatives are siblings, uncles, aunts, etc. If the deceased has parents who are still alive, the estate will pass to them. In the event the deceased's parents are also dead, then the estate would pass to any siblings.
A deceased who left behind no heirs would have their estate passed to any heirs of the deceased's grandparents. One half of the estate to the maternal relatives and the other half going to the paternal side relatives. If no heirs exist on one side of the family, then the entire estate will go to the other family's side.
Assets That Don't Pass Through Estate 
While most assets pass through the estate, there are some that don't. Some of these assets can include:
Retirement accounts that have a named beneficiary;
Life insurance policies that have named beneficiaries; and
Property that is titled with joint ownership with rights of survivorship.
Contact a Florida Trust and Estate Litigation Attorney
If you need assistance with an estate that is subject to Florida's intestate laws, contact Mark R. Manceri, P.A. today to schedule an initial consultation.
https://www.estateprobatelitigation.com/how-to-help-prevent-someone-from-contesting-your-will-in-florida/