Suing For Breach Of Fiduciary Duty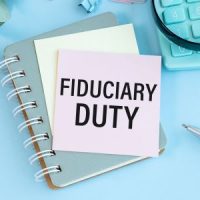 When someone passes away, their estate goes to probate. If there are any trusts in their estate, they will be managed by a trustee. The administrator and trustee both have fiduciary duties, which means that it is their job to manage the trust or estate and to put the best interest of the trust or estate ahead of their own self interest. If a trustee breaches their fiduciary duties by putting their own self interest ahead of the trust, the beneficiaries of the trust can sue for the breach and for resulting damages. If you are a beneficiary who has lost out on significant assets due to a breach of fiduciary duty by your executor or trustee, a trust litigation attorney can help you get them back by bringing a lawsuit against them. For many beneficiaries, this is the only means of recovering wealth that has been passed on to you and that would otherwise be lost. Schedule a consultation to learn more about what legal options may be available to you to protect your inheritance and hold your executor or trustee accountable for the financial harm that they have caused.
What is Breach of Fiduciary Duty?
A fiduciary breaches their duty when they do anything that creates a conflict of interest with the trust. As trustee, they have a fiduciary duty to protect the wellbeing of the trust over their own self interest. If a conflict of interest arises, this puts the trustee in competition with the trust that they are serving, and they will no longer be able to meet their fiduciary duty. Common examples of breaches of fiduciary duty include self-dealing, embezzlement, fraud, and theft from the trust. Failing to fulfill their duties, provide relevant information, or personally profiting at the expense of the trust.
How to Sue for Breach of Fiduciary Duty
Breaching a fiduciary duty can result in serious costs to the trust and massive financial losses for the beneficiaries. If you have suffered financial losses due to a breach of fiduciary duties and mismanagement of a trust, you can hold your trustee accountable for their breach by suing them. If you have reason to believe that the trustee or executor for your loved one's estate has breached their fiduciary duty, it's important to contact an experienced Florida trust litigation attorney as soon as possible to begin the process of bringing a lawsuit before their negligent or intentional conduct can deplete your trust assets any further. Bringing a lawsuit will allow you to hold them accountable for their negligent or intentional conduct, as well as to recover damages. Damages will be equivalent to the total amount of money lost and costs incurred as a result of the breach of fiduciary duty that occurred.
Schedule a Consultation with Mark R. Manceri, P.A.
If a trustee or executor is breaching their fiduciary duties, they could be costing you generational wealth. For experienced trust litigation representation, contact Pompano Beach estate & trust litigation lawyer Mark R. Manceri, P.A. today to schedule a consultation.
Source:
investopedia.com/ask/answers/042915/what-are-some-examples-fiduciary-duty.asp