Paternity Disputes and Florida Probate Litigation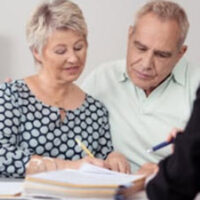 There are occasions someone comes forward during probate to claim they are the deceased's biological child. The name given to this person is the putative child. They may have to prove their paternity while the probate administration is pending. If the person turns out to be a biological child, then he or she may have the right to seek assets from the estate as one of the deceased's beneficiaries.
Unfortunately, paternity disputes are not necessarily easy to resolve during probate. You may need to speak with a Pompano Beach Estate and Trust litigation attorney who can help.
Florida Statutes on Paternity
Under Florida Statutes 732.108, paternity cases for a child born out of wedlock would be established by the following in cases, where the deceased died without a Will:
Biological parents participated in a marriage ceremony before or after the child, despite the fact that the attempted marriage is void.
The paternity of the father was established by adjudication prior to or following the death of the father. Provisions in Chapter 95 won't apply to determining heirs in a probate administration under this paragraph.
The father acknowledged paternity in writing.
Determining paternity after the father's death will take place in the probate court. If it was started prior to the death, it would've most likely been handled in family court. As long as the paternity was not legally decided in any other proceeding, it's possible to handle the matter in the probate court. If paternity was addressed in family court or elsewhere, then the probate court cannot address it. The possible heir would then have to go back to the original court that made the determination on paternity.
Statute of Limitations on a Paternity Suit
There is a statute of limitations on paternity suits in Florida. A child has to establish paternity within four years after they turn 18. That means that if the potential beneficiary is under 22 when probate begins, then they can petition to have their paternity proven. If they are over 22, then there is a good chance the statute of limitations will prevent them from pursuing a paternity claim.
Proving Paternity in a Florida Probate Administration 
One of the most common ways to prove paternity is through a DNA test. In the event the court won't accept DNA evidence or it's impossible to do it, the possible beneficiary will need to prove paternity through other means as noted in Florida Statutes 732.108. One of these ways is with written evidence. A writing can include an affidavit from the decedent, a life insurance policy, a birth certificate, a personal letter, a beneficiary designation, or another similar type of writing. It does not have to be a specific type. 
Contact a Pompano Beach Probate Litigation Attorney
If an issue arises about the paternity of a putative child, it's important to speak with an experienced Pompano Beach probate and estate litigation attorney right away. Contact Mark R. Manceri, P.A. today to schedule an initial consultation. Let us help you resolve a paternity dispute and any other issues that may arise.