Is a Will Valid If It Is Handwritten?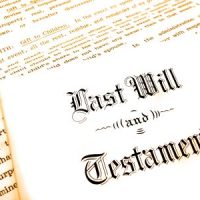 In the age of computers, it is fairly uncommon to come across a legal document that is written out by hand. But it does happen. And this can lead to some complications, particularly if the legal document in question purports to be someone's last will and testament.
In legal terms, a will written out by hand is usually referred to as a "holographic" will.
Florida allows a Will in the Testator's handwriting provided it is properly executed in compliance with Florida law. Under Florida law, such a Will is not considered to be "holographic".
Handwritten Does Not Always Mean Holographic
That said, not all handwritten wills are necessarily holographic will. Typically, a holographic will is done in the handwriting of the testator–the person making the will–and the finished document is not witnessed or notarized. This can be because the testator was making the will at the last minute or on their deathbed and simply lacked the time or foresight to have witnesses.
Really, it is the witness requirement that Florida law is concerned with, not whether the document itself was printed out from a computer file or written out by hand. Under Section 732.502 of the Florida Statutes, a valid will needs to be signed at the end by the testator–or someone acting at their direction–and in the presence of at least two witnesses, who must also sign the will.
The Florida Third District Court of Appeals recently addressed a case, Morrow v. Morrow, where a probate court incorrectly declared a handwritten will invalid even though it appeared to comply with Section 732.502. In this case, the will was handwritten and signed by the testator and two witnesses. It was also notarized. Even the party challenging the will acknowledged the probate court incorrectly ruled on this point.
Contact Florida Estate Litigation Lawyer Mark R. Manceri Today
While a will must be signed and witnessed in Florida, notarization is actually optional. In other words, you do not have to sign your will in the presence of a Notary Public. But it is common practice to do so as it makes the will "self-proving." Basically, if a will is notarized, the probate court will accept it as valid without having to locate the original witnesses and get them to attest to the will's authenticity in person.
If you are involved in a legal dispute involving the validity of a Florida will, it is best to speak with an experienced Pompano Beach estate and trust litigation lawyer. Contact the offices of Mark R. Manceri, P.A., today to schedule a consultation.
Source:
scholar.google.com/scholar_case?case=7028175238510367476