How to Prove Undue Influence in a Pompano Beach Estate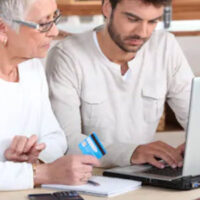 Sadly, some people look for ways to take financial advantage of others. This is not an uncommon situation when the elderly are involved. People indoctrinate themselves with older people with larger estates in hopes of benefiting financially through their Wills. Sometimes it is a new personal relationship or an existing one like a healthcare worker or in-home caretaker. Undue influence and acts of fraud can fall under both estate planning and elder abuse. In most cases, undue influence extends beyond just the Will. It may include bank accounts, credit cards, and other financial transactions that can quickly deplete the victim's assets.
Sometimes these fraudulent transactions are not discovered until they have passed away, and their estate is going through probate. Savvy criminals often won't draw attention to themselves by becoming the primary beneficiary on the Will, but rather on accounts that pass outside of probate. When you discover possible undue influence in a loved one's estate, it's time to hire an experienced Pompano Beach undue influence lawyer.
Proving Undue Influence in a Florida Estate
Before you can challenge a beneficiary designation, you need to gather the necessary evidence to prove to the Court that undue influence exists. To start, you should show the victim was vulnerable and susceptible to being taken advantage of. You also need to explain what actions the wrongdoer took and the inequitable result of those actions.
Find evidence that shows how they controlled the victim. The court will require proof that there was behavior taking place that was designed to control the victim in some way. That may be through threats of withholding food, medication, and any other life necessities. Victims who rely on caretakers to administer their food and medications may feel compelled. Other times, the undue influence is not so overt. They form relationships with the victim and exert control over them in different ways.
When you suspect undue influence, you need to file a petition to challenge the Will. Fortunately, Florida law has created a presumption of undue influence in certain situations. If you can show that someone who has a close confidential relationship with the victim played an active role in procuring or preparing the Will to their material benefit, then the presumption applies. In this case, the burden of proof Will shift to the alleged wrongdoer. If you meet that burden, then the Court can declare portions of the Will, or the entire Will, void.
Contact a Florida Undue Influence Lawyer
Undue influence is one of the main reasons that Wills are deemed invalid or revoked. If you suspect a family member's estate is the victim of undue influence, please contact Pompano Beach undue influence lawyer Mark R. Manceri, P.A. today to schedule an initial consultation.
https://www.estateprobatelitigation.com/how-undue-influence-affects-your-entire-estate-plan-in-florida/