How Do I Contest A Will In Florida?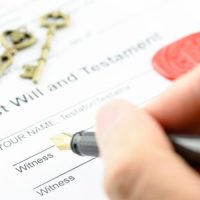 There may be nothing in life more painful than losing a loved one. However, for many, when it comes time to hear their loved one's last will and testament and it does not align with what they knew their loved one's wishes to be, it can feel like adding salt to a very deep wound. If you are a beneficiary or expected to be a beneficiary of someone's will, and you believe that they were coerced or manipulated into changing their will to your detriment, you may be feeling angry and heartbroken. However, you do have legal options available to you. If you believe that your loved one's will is invalid, either due to undue influence, lack of testamentary capacity, or due to issues with the execution of the will, you have 90 days from the time that you are notified of the administration of the will to take action, and our lawyers can help.
Who Has Standing to Challenge a Will?
There are three categories of people who have standing to challenge a will. If you are listed as a beneficiary in the current will, were listed as a beneficiary in a previous version of the will, or are not included in the will, but would inherit under Florida's intestate succession statutes, then you have standing to challenge the will. If you expected to inherit or were told that you would be included in the will, but do not fall under any of these categories, unfortunately you do not have standing to challenge the will in probate court.
What are Grounds for Contesting a Will?
Undue influence. If you believe that someone used pressure, abuse, or manipulation to coerce your loved one into changing their will, there are three criteria that must be met in order to establish undue influence. First, the individual accused of undue influence must have had a confidential relationship with the testator, they must have had an active role in helping the testator procure their will, and they must be listed as a significant beneficiary therein.
Lack of testamentary capacity. If the testator did not have the capacity to understand the nature and consequences of what they were doing when they created their will, it can be contested for a lack of testamentary capacity.
Issues with execution formalities. If the will does not meet certain legal criteria, it will not be found valid by the probate court. For instance, it must be in writing and signed by the testator in the presence of two valid witnesses. Additionally, it must be the latest version of the will.
Contact Mark R. Manceri, PA to Schedule a Consultation
If you believe that your loved one was taken advantage of, or that you are not receiving the inheritance that you are entitled to, Mark R. Manceri, PA, can help you contest the will. As noted above, there is a 90-day time limit on contesting a will, so it's important to take action now. Contact Pompano Beach estate & trust litigation lawyer Mark R. Manceri, PA today to schedule a consultation.