Do You Think Your Loved One's Will Is Forged?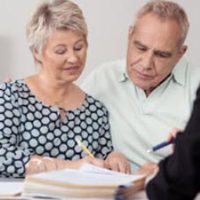 If your loved one's will contains more than a couple of shocking modifications this can be a serious red flag that something is not right. In some cases, the elderly are forced, manipulated, or unduly influenced into making modifications to their will and estate plan that favor someone in a position of power over them, such as a caretaker. In other situations, an individual's will may be forged so that it benefits certain people without the testator ever even knowing that the changes have been made. If you suspect that your loved one's will may be a forgery, it's important to take action fast to challenge the validity of the will so that a fraudulent will cannot be enforced.
What to Do if You Think A Will is Forged
If you stand to inherit from the testator, you are considered an interested party, and you have standing to contest the will. If the will has not yet gone to probate, you can file a general denial of the will. This will flag the matter for the probate court, and before anything happens to the estate, the judge will have to determine whether the will is legitimate or a forgery. By filing a general denial of the will, the burden of proof is shifted to the beneficiaries of the will. They must then prove that the will is not forged. In order to meet the burden of proof, which, in civil court, is beyond a reasonable doubt, you can provide handwriting experts who can provide expert testimony as to whether the signature belongs to your loved one or is a forgery. You can also identify witnesses who may have talked to the testator about their wishes for their estate near the end of their life. This will help to support your case if they testify that the testator expressed wishes very different than those reflected in their will up until the time of their death, as this makes forgery seem far more likely. A lawyer can review the facts and circumstances of your case in order to determine the best legal strategy. The best strategy for you will depend on the facts of your case. If the probate process has already ended for the estate in question, you can bring a post-probate motion to challenge the validity of the will by outlining your case for forgery in the motion.
What Happens if a Will is Forged?
If the probate court determines that your loved one's will is forged, it will be unenforceable. This means that the written will that was submitted to probate court cannot be ordered into effect. Instead, the testator's estate will be distributed based on Florida intestate succession statutes, which favor the testator's spouse and children. If the testator does not have a spouse or children, their estate will go to their parents or siblings.
Schedule a Consultation with Mark R. Manceri, P.A.
If you believe that your loved one's will is forged, it's important to take action. Pompano Beach estate & trust litigation lawyer Mark R. Manceri is an experienced estate lawyer who will take your case to court and fight to ensure that your loved one's wishes are honored. Contact Mark R. Manceri, P.A. today to schedule a consultation.