Can You Still Challenge A Will After The Probate Process?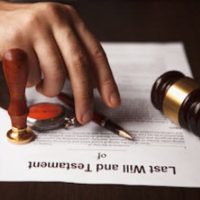 The death of a loved one is an emotionally difficult time for everyone involved, and the probate process can be overwhelming. During this process, it is possible to challenge a will if you feel that it does not accurately reflect the wishes of your departed loved one. But what if probate has already been finalized? Is it still possible to challenge a will after the fact?
Let's take a look at some common reasons to challenge a probated will and how an attorney can help you do so. Meanwhile, you might want to consult with our Pompano Beach estate litigation lawyer at Mark R. Manceri, P.A., to learn more about contesting a will after the probate process in your particular case.
Common Reasons to Challenge a Probated Will
There are many reasons why you might consider challenging a probated will. Generally speaking, wills are challenged when someone believes that the deceased was not in their right mind when they wrote or signed the document or that they were misled by another person into writing or signing something they didn't really want or intend.
Other times, wills are challenged because someone believes that the deceased was coerced into making changes to their final wishes due to pressure from family members, friends, or caretakers. Another reason to challenge a probated will is the discovery of a more recent will.
How an Attorney Can Help You Contest A Probated Will
If you suspect that your deceased loved one's will does not accurately reflect their last wishes and wish to challenge it in court, then hiring an experienced estate litigation attorney is essential. An attorney with experience in this area of law can review your case and advise on whether contesting the will is likely to succeed and what evidence may be necessary for success in court. They can also help ensure that all paperwork is filed correctly and on time so that your case isn't dismissed due to technicalities or missed deadlines.
Contact Mark R. Manceri, P.A., for Legal Assistance
While challenging a probated will may seem daunting at first glance (and even more so after probate has been finalized), with proper legal guidance, it is certainly possible provided you have strong evidence supporting your claim.
If you believe there were any irregularities surrounding your late loved one's last wishes, our lawyer at Mark R. Manceri, P.A., can help you understand your options for resolving this situation quickly and equitably for all parties involved. Call 954-491-7099 now to get a case review.
Source:
leg.state.fl.us/statutes/index.cfm?App_mode=Display_Statute&Search_String=&URL=0700-0799/0732/Sections/0732.518.html