Can A Notary Also Serve As Witness To A Will?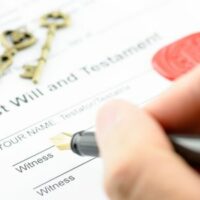 One of the critical requirements to make a valid will in Florida is two witnesses. More precisely, the person making the will (i.e., the testator) must sign their original will in the presence of at least two witnesses. That is to say, the testator and both witnesses must be together at the time the will is signed by all three. The witnesses do not need to read the will first or understand its contents, only that the document they are signing is the testator's will.
A common question we often get is, "Does a will have to be notarized?" Technically, the answer is no. Florida does not require notarization to validate a will. The signature of the witnesses is sufficient. However, it is common practice to include what is known as a "self-proving affidavit" with a will, which is signed by a notary. The purpose of the affidavit is to eliminate the need for the witnesses to personally appear in court should the need later arise to validate the will.
A 1992 decision from the Florida Fifth District Court of Appeals, Simpson v. Williamson, held that there was no reason a notary could not serve as a second witness. In the Simpson case, however, there was a dispute as to whether the notary actually signed the will in the physical presence of the testator and the other witness. But similar to the Rhode Island court, the Fifth District said the mere fact a notary signed the affidavit as opposed to the signature line of the will did not necessarily invalidate their status as a second legal witness.
Speak with a Florida Will Contest Lawyer Today
Although the requirements to make a valid will are not onerous, they are quite exact, and a document that fails to conform to Florida law may lead to a contest. If you are involved in such a potential dispute and need legal advice from an experienced Pompano Beach estate & trust litigation attorney, contact the offices of Mark R. Manceri, P.A., today to schedule a consultation.
Sources:
scholar.google.com/scholar_case?case=9983200155362943868
scholar.google.com/scholar_case?case=11472617495264052266