Breach of Fiduciary Duty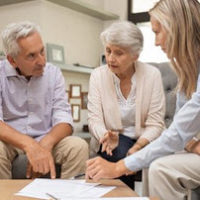 Fiduciary relationships go beyond attorneys, personal representatives and trustees. The Florida Supreme Court ruled they don't necessarily need to be legal relationships in order to have a fiduciary duty. They may also be relationships that are moral, social, domestic, or of a personal nature. When one party fails to uphold that confidential or fiduciary relationship, it could lead to serious litigation.
What is a Fiduciary Relationship?
There is an inherent amount of trust and confidence that goes into not only interpersonal relationships but fiduciary relationships as well. That is because the fiduciary is charged with the obligation to act in the best interests of another person. Typically this is designated through a Will, Trust or some other legal document, which establishes the fiduciary relationship.
Florida laws are meant to protect persons who are frail or with diminished capacity from being improperly influenced. The fiduciary will help manage finances, assets, and other property for another person or business. One of their primary loyalties is to the beneficiaries under a Will or Trust. All decisions that are made by a fiduciary must be in the best interests of the beneficiaries.
How is a Fiduciary Duty Relationship Breached?
Breaches of a fiduciary relationship comes in many forms. That includes acting in a way that is against the best interest of a beneficiary, making financial decisions to benefit one's own personal interest ahead of the beneficiaries, or failing to disclose material information to the beneficiaries. In order to determine whether there has been a breach of fiduciary duty, you must prove:
The Defendant owed a fiduciary duty to the Plaintiff.
That fiduciary duty was breached by misusing or abusing the fiduciary powers, neglecting responsibilities, misrepresenting information, etc.
Damages occurred as a result of the breach of fiduciary duty.
The actions of the alleged breach will be closely examined, including the nature and scope of the act. Sometimes, the breach of fiduciary duty will cross over into outright fraud, especially if there is theft, secret transactions or self – dealing involved.
Recovering From a Breach in Fiduciary Duty
If you are a victim of a breach in a fiduciary relationship, you and your lawyer can fight for money to recoup from lost profits, lost business opportunities, lost assets or other damages. Make sure you consult an estate or trust litigation lawyer as soon as you are aware of a possible breach of a fiduciary duty that is owed to you or a family member.
Contact an Experienced an Estate and Trust Litigation Lawyer
Don't hesitate to call an experienced attorney who understands the aspects of prosecuting a case involving a breach of fiduciary duty. Breach of Fiduciary Duties lawyer Mark R. Manceri in Pompano Beach, who has 35 years  of experience, will be able to provide you extensive legal counsel and make the best recommendations for a course of action. Make sure your legal rights are properly addressed by calling our office at 954-491-7099 to schedule your first consultation.