6 Warning Signs That Power Of Attorney May Be Abused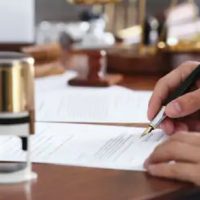 Power of attorney (POA) is a legal document that allows one person to act on behalf of another person. It is often used to empower a family member or a trusted friend to make financial or medical decisions for individuals who are unable to do so themselves. However, unfortunately, it is not uncommon for an agent to abuse their power and use it to their advantage.
If you suspect that a power of attorney is abused by the agent, you might want to seek legal help from a lawyer. Our Pompano Beach power of attorney disputes lawyer at Mark R. Manceri, P.A., helps resolve disputes related to POA and assists principals and family members who wish to remove an agent under a power of attorney.
Signs of Power of Attorney Abuse
Let's discuss six warning signs that could be indicative of the power of attorney abuse.
1. Inability to Keep the Principal's Money Separate from Their Own
One of the first warning signs that power of attorney may be abused is when the agent is unable to keep the principal's money separate from their own. The agent may start using the principal's funds to make purchases for themselves, make withdrawals without the principal's knowledge, or commingle their own funds with the principal's.
2. Being Secretive About the Principal's Finances
Another warning sign of abuse is when the agent becomes overly secretive about the principal's finances. They may avoid answering questions or providing information about the principal's accounts or investments. They may also refuse to share information related to the principal's financial affairs with family members or friends.
3. Filing Unnecessary Loan or Credit Card Applications in the Principal's Name
If the agent begins filing credit card or loan applications in the principal's name without their knowledge or consent, it could be a sign of abuse. Such actions can lead to the principal becoming over-indebted, leading to long-term financial implications.
4. Excessive Gifts
Power of attorney abuse can also take the form of excessive gifting. An agent may start gifting the principal's assets or possessions to themselves or others without the principal's consent. These gifts may be out of character for the principal and could lead to a substantial financial loss for the principal.
5. Failure to Pay the Principal's Expenses
Another sign of abuse is when the agent neglects to pay the principal's expenses, such as medical bills, rent, or utility bills. The principal may start getting notices about late payments, or creditors may begin calling to demand payment. This can lead to the principal's financial affairs being thrown entirely out of order.
6. Moving the Principal into Care Without Notice
Lastly, if an agent moves the principal into care without providing notice to family members or friends, it could also be a sign of abuse. In such a scenario, the agent may be taking advantage of the principal's diminished physical or mental capabilities. Revocation of power of attorney is addressed in Florida Statutes § 709.2110.
Get Legal Help
It is essential to watch out for warning signs of the power of attorney abuse to avoid harm. If you suspect abuse of power of attorney, it is best to act quickly and seek help from a professional. Our lawyer at Mark R. Manceri, P.A., can help you find the best possible resolution if you suspect that an abuse of power of attorney has occurred. Call 954-491-7099 to get a case review.
Source:
leg.state.fl.us/Statutes/index.cfm?App_mode=Display_Statute&Search_String=&URL=0700-0799/0709/Sections/0709.2110.html