Should You Name More than One Personal Representative in Your Florida Will?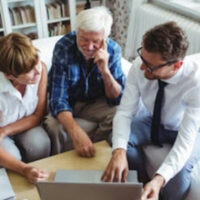 When you are drafting your Will, one of the first decisions you need to make is to select a Personal Representative for your Estate. This decision is an important one as this person will be tasked with a lot of responsibility upon your death. You also need to consider what happens if a dispute arises during probate, which is not uncommon. Multiple Personal Representatives could lead to additional arguments. If there are conflicts during probate, your family may need to retain a skilled Pompano Beach estate & trust litigation attorney to assist.
At Mark R. Manceri, P.A., we specialize in estate litigation. We routinely deal with conflicts that arise during probate, so we understand the pros and cons of naming additional people to serve as your Personal Representatives.
Benefits of Multiple Personal Representatives
Personal Representatives have many duties, including listing and collecting assets, notifying all creditors, preparing tax returns, getting appraisals, selling property, preparing an accounting, and distributing all assets. Depending on the size of your Estate, it can be a lot of work for one person. If the Personal Representatives can work well together, dividing the responsibilities can help reduce stress and the risk of mistakes. It could help the probate move forward more efficiently.
Many people list their spouse as a Personal Representative. But what if your spouse is elderly? Not only is it a lot of work for them to take on, but older adults are also more susceptible to abuse and undue influence. There is also the concern of what would happen should they become incapacitated and cannot serve as the Personal Representative. Naming a Co-Personal Representative to serve alongside your spouse can help ease potential risks and burdens.
Do you own a business? It might be a better option to name a Co-Personal Representative who has business experience and can ensure proper business succession.
Cons of Having Multiple Personal Representatives
There are certainly some potential cons to consider when deciding on who to name as your Personal Representative. Remember, all the people you name will have decision-making power. If these individuals cannot get along and work together as a cohesive team, it could affect the probate. It can lead to disputes and potential conflict of interest.
These potential disputes can cost your Estate, both in time and legal fees. If your Personal Representatives are not getting along, they may try to undermine each other and stall the probate. That could lead to probate litigation. This is not uncommon when someone chooses multiple children to be co-personal representatives. Some parents are afraid to choose one child over the others to be the Personal Representative because they are worried about the perception of favoring one child over the other.
Contact a Pompano Beach Probate Litigation Attorney
If you are involved in a probate administration where there is some conflict, it's imperative to get it resolved right away. Our Pompano Beach probate litigation lawyers can help. Contact Mark R. Manceri, P.A. today to schedule an initial consultation.
https://www.estateprobatelitigation.com/important-mistakes-to-avoid-when-selecting-your-beneficiary-designations/