How to Remove a Florida Trustee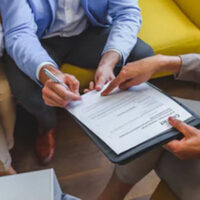 Choosing a Trustee is an important decision. It's one that must be carefully made because this individual will be responsible for maintaining your trust assets and overseeing distributions of these assets in accordance with your instructions. If you choose a Trustee that ends up breaching their duties or is unqualified, the beneficiaries may want the trustee removed. There are provisions under Florida law that will allow for the removal of a Trustee. It's not necessarily simple, which is why you need an experienced Pompano Beach trustee dispute lawyer on your side.
Legal Reasons to Remove a Trustee in Florida
Under Florida law, certain circumstances will allow a court to order a trustee's removal. These reasons include:
Co-Trustees not cooperating and impacting the effective administration of the Trust;
The trustee committed a serious breach of trust;
All qualified beneficiaries jointly agree to a removal if it best serves their interests;
A significant change in circumstances that makes removing the Trustee in the beneficiaries' best interests; or
The Trustee is unfit, unwilling, or there is a persistent failure to administer the Trust effectively, and it's in the best interests of the beneficiaries to have them removed.
Examples of Reasons to Remove a Trustee
Every case is different. Potential examples of reasons to remove a trustee could include:
Self-dealing;
Refusal to comply with terms of the trust;
Trustee incapacity;
Misappropriation of funds;
Abuse of discretion;
Trustee's failure to act;
Mismanagement of trust assets;
Trustee misconduct; or
Conflict of interest.
The Process of Removing a Florida Trustee
Because the courts take removing a Trustee very seriously, it's crucial to speak with a skilled lawyer who can help you determine whether a removal proceeding is a right step. To proceed with an involuntary removal proceeding, you need a significant amount of evidence. Certain situations warrant a removal proceeding, but it is not the right process for minor conflicts or issues that don't severely impact administering the Trust.
If the court decides to pursue action, they could require the Trustee to refrain from acting in a certain way or order them to take a certain action. Perhaps they issue an injunction that would require the Trustee to perform an act on behalf of the trust, or pay back commissions or profits obtained dishonestly or illegally.
What Happens When You Remove a Trustee?
In most cases, the creator, or grantor, of the Trust will designate at least one successor Trustee. This individual would step in if the initially appointed trustee is unable or unwilling to serve in that capacity. If a successor trustee is listed, that individual will transition into the trustee role once the prior Trustee is removed.
Contact Our Pompano Beach Trustee Dispute Lawyer
If you are having a dispute with a Trustee or need assistance with having a trustee removed, don't attempt to pursue it independently. Instead, let our experienced Pompano Beach trustee dispute lawyers help. Contact Mark R. Manceri, P.A. today to schedule an initial consultation and learn how we can help. We have years of experience with estate and trust litigation matters. Let us help you resolve the problems with the current trustee.