How Do Florida Courts Deal With Inheritance Claims From "Illegitimate" Children?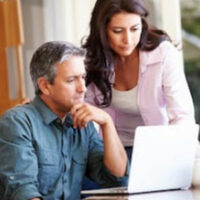 Florida law makes no distinction between "legitimate" or "illegitimate" children when it comes to inheritance rights. Any biological child of a deceased individual has the same right to inherit from the parent's estate if they died without leaving a valid will or trust. Of course, a parent is free to disinherit an adult child if they wish.
But a child's inheritance rights presumes that paternity has been legally established. And this is where things can get complicated, especially if a "long lost" child suddenly appears after the parent's death and demands their share of the estate. Such claims may be untimely given Florida's statute of limitations surrounding paternity actions.
Long-Lost Son Waits Too Long to File Paternity Claim
To illustrate what we are talking about, here is a recent decision on-point from the Florida Third District Court of Appeal, Bivins v. Douglas. This case centers on the 2017 death of a man with the last name of Pearce. Before his death, Pearce executed an estate plan that left most of his estate to a trust and charitable foundation that he established.
After Pearce's death, another man, this one with the last name Bivins, sued the trust and foundation and sought to invalidate Pearce's estate planning documents. Bivins claimed he was the biological son of Pearce. More specifically, Bivins said he was born out of wedlock, but that his mother married Pearce sometime after his birth. Consequently, Bivins and his three children now claimed to be intestate heirs of the Pearce estate.
A Florida trial court dismissed multiple complaints filed by Bivins and his children. The most recent dismissal was then appealed to the Third Circuit. The appellate court agreed with the trial court's decision, holding neither Bivins nor his children had standing to challenge the validity of Pearce's will or trust.
The reason for this was simple: Bivins had waited too long to try and establish legal paternity. Prior to this lawsuit, Bivins had apparently taken no legal action to prove Pearce was his biological father. Under Florida law, there is a four-year statute of limitations on any paternity action. This means there is a four-year clock starting from the time the child reaches the age of 18. In this case, Bivins turned 18 in 1983, so he had until 1987 to file a paternity lawsuit against Pearce. Bivins' failure to act 34 years ago meant he could not now seek a declaration of paternity against Pearce's estate.
Now, Bivins also claimed that his mother married Pearce after his birth. If true, that would make Bivins an heir, as Florida law recognizes the succession rights of a child whose biological parents marry after birth. But again, this assumes that Pearce was Bivins' biological father, and that issue had to be raised in court prior to 1987.
Contact a Florida Trust Litigation Attorney Today
It is not unusual for someone to appear during a probate proceeding and claim to be the long-lost heir of the decedent. If you are involved in such a scenario it is important to seek out qualified representation from a Pompano Beach omitted heir lawyer. Contact attorney Mark R. Manceri, P.A., today to schedule a consultation.
Source:
3dca.flcourts.org/content/download/796948/opinion/200965_809_10202021_155327_i.pdf