Florida Prenuptial Agreement Disputes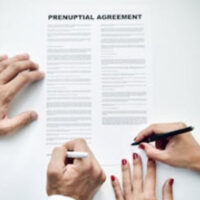 A Prenuptial Agreement is a written contract that you enter into when engaged. The Agreement governs specific topics and matters related to your financial situation and becomes active once you are legally married. Some people also use a Prenuptial Agreement to address other issues beyond financial arrangements as well. The Agreements are varied and can complicate certain aspects of your estate or trust. You may need the assistance of a skilled Pompano Beach prenuptial & postnuptial agreement lawyer to resolve disputes during probate.
As long as there is nothing in the Agreement that violates any laws or affects child support rights, these agreements can cover anything you choose. Most people primarily use the Agreement to specify certain financial agreements, which often includes stipulations regarding altering an existing Will. Overall, prenup agreements are on the rise. It's crucial to have an attorney look over an Agreement your future spouse has drafted and asked you to sign. There may be unfair terms or a very one-sided deal. It's easier to make changes to the Agreement before signing it, rather than trying to dispute it when it needs to be enforced.
Disputing a Prenup in Florida
A prenup is only considered fair when both parties understand what they would inherit without the Agreement. That is one reason why the Agreement should have a comprehensive list of both partners' assets and debts. That way, if one party deliberately leaves assets out so the other one doesn't know what they stand to inherit, the Court will find the Agreement is invalid. Some Agreements contain a waiver to disclose assets.
Other possible options for disputing a Florida prenup include:
Signed Under Duress: Multiple situations could apply as duress, it isn't limited to threats of violence. If your partner presented you with the prenup right before the wedding, you might not have had time to review it entirely and consult with your own counsel. If your partner gets angry or violent when they present it for you to sign, there's a good argument that someone coerced you.
Prenups Must Be Reasonable: The Agreement will likely favor one party more than the other, especially if the drafting party is trying to protect their assets. However, it cannot be entirely one-sided. When it is, the Agreement is considered unconscionable, which is basically "shocking to the conscience."
Failure to Adhere to Terms: Another option for invalidating a prenup is when your spouse doesn't meet all the agreed to terms. When the prenup terms are broken, the court may not enforce the Agreement in part or entirely.
Contact a Florida Prenuptial Agreement Lawyer
There are other possible options for disputing a Florida Prenuptial Agreement during probate. If you are dealing with a probate or trust matter involving a dispute over a Prenuptial Agreement, you need a skilled Pompano Beach prenuptial agreement attorney. Contact Mark R. Manceri, P.A. today to schedule an initial consultation. We have over three decades of experience handling transactional and litigated matters related to trusts and probate administration in Florida. Let us review your situation and determine whether there are valid reasons to challenge the validity of your prenup.
https://www.estateprobatelitigation.com/marital-agreement-disputes-in-pompano-beach-trust-and-probate-matters/